Professional Carpet Cleaners Stafford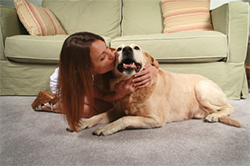 Our team strives to deliver the best Stafford carpet cleaning service. Our carpet cleaning services are performed by Certified Carpet Cleaners with years of experience and highly dedicated in providing superior customer satisfaction. In addition our employees are background verified and drug screened regularly to meet the industry and our high quality standards.
Our drying time will increase with pet odor & stain removal as the process requires a more thorough front and back carpet cleaning. In addition, severe carpet soiling may potentially increase carpet drying time.
We use our custom pre-treatment solution that will help eliminate stains, bacteria and odor. Therefore, ensuring a cleaner healthier environment for everyone. Our pre-spray solution is people and pet safe with no residue build-up.
We use hot water extraction (also known as steam cleaning) as our preferred method. This process cleans, sanitizes and eliminates odors all together, leaving no residue behind. Our citrus solution is designed to enhance the cleaning power without the damaging effects like other carpet cleaners.
Keep your house healthy and smelling fresh. Made from an all-natural enzyme formulated to remove bacteria-causing odors. It is is safe, non-irritating and effective! Like all our solutions, our deodorizer is environmentally friendly, is safe for children and pets. We want to add value to our services for our customers by helping you move any small furniture. So don't worry about moving your furniture to get your carpet cleaned, let our carpet cleaners help you.
We use a hybrid approach that focuses on knowledge, quality and customer service. Our technicians are certified and trained to our quality standards before working in the field. These individuals must pass a series of knowledge based assessment programs and skilled training practices before they are certified to work in the field, even with prior experience.
We strictly use pressurized hot water extraction along with our anti-bacterial solution to remove mold, allergens, dust mites and other harmful bacteria from your carpet, which is people and pet safe. In addition, it will make your carpet clean and odor free. Our cleaning methods will remove all dirt, spots and residue from your carpet.
Unfortunately floods happen! We can remove standing water and any contaminants left behind by dirty water and keep your home from being damaged. Carpet Cleaning Stafford uses high-powered extraction equipment and custom chemical solutions to keep mold, mildew and odors out of your home. Flooding can lead to property destruction. Severe flooding can damage almost everything in your home or building including carpet, padding, walls, furniture, computers (most electronic devices), documents and clothing. If you want to be successful in saving your home interior and personal items from flood damage it's important to eliminate moisture and humidity immediately!
Equipment that generates heat will cause the humidity level to increase. Therefore, mold and mildew will grow faster with heat. Our team has the proper equipment to reduce and eliminate the moisture caused by a flood. Our process involves using special restoration equipment and chemicals to remove moisture, mold, mildew and odor. When using our flood services, our flood technicians monitor your home or business property daily to ensure the best possible result. If a flood occurs call for assistance immediately! It's important to remove the water as soon as possible. If not, it will cause more damage to your home or business.
Just because you don't live on the coastline, near a creek or in a natural flood zone doesn't mean that it can't happen to you! Something as simple as running a bath and getting distracted, can leave you with water everywhere. Dealing with a flood can be incredibly stressful and frightening. You need someone on your side that has been there before and knows exactly what to do. We will be there for you every step of the way. The sooner you call for help, the better likelihood you have of restoring everything to it's original, pre-flooded state. Get priority attention with us, our techs are always standing by 24 hours a day to handle your flood disaster.